Groups and Guilds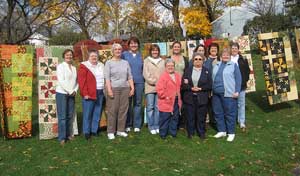 Let us plan your group's next Quilt retreat! We can run a Quiltaway weekend exclusively for your group. We'll do all the work, you just enjoy your weekend!
Small Groups
For smaller groups of 10 to 12 quilters, you can reserve an entire Quiltaway weekend. Your exclusive Quiltaway includes everything offered in the regular Quiltaway: two nights in the Stoltzfus Bed and Breakfast. We have purchased twin size beds and bedding to supplement the B&B's own beds so each quilter will sleep in a separate bed. The meals include Friday night dinner; Saturday breakfast and lunch; Sunday brunch and snacks.
Larger Groups
For larger groups of over 12 quilters, we can work with you to customize you Quiltaway. We will find a venue suitable for your groups size or we will come to your location. Contact Us to discuss your group's needs.
Your Project
For all size groups, you can choose your project. You can select the most recent Mystery Quilt pattern or you can choose any past Mystery Quilt pattern instead. Your group will receive all clues and instruction to solve the Mystery Quilt. You might also want to consider a UFO weekend or any other project or pattern your group would like to tackle. We will be available throughout the weekend to answer questions and help in anyway we can.
We also offer some mini-workshops that we can present at your weekend. These are especially nice if you have beginners in your group. You can choose any or all of the following, just let us know when you reserve the weekend so we can bring the necessary materials.
Rotary Cutting
Paper Piecing
Mitered Borders
Binding a Quilt
Reserving your Quiltaway
Choose a member to be the "Retreat Leader" and a single point of contact for us. For groups of over 12 quilters, Contact Us and let us know your groups needs and desired dates, we will work to find a suitable location and quote you a price dependent on the location and your group's size. Then we will help you choose your project and plan the details of your Quiltaway.
For smaller groups, check the available dates on our Home page. If you don't see a date that works for your group, or if you would like your Quiltaway Weekend in the summer or winter, give us a call or email and depending on availability, we will book another date of your choice. Then, the group leader should send in deposits and registration forms from the members of your group. The minimum of 10 guests is required. We may not be able to hold the entire weekend for you until we have forms and deposits for 10. Then the members may send their balances directly to us with a due date 30 days prior to the Quiltaway Weekend.
The 2015 price of a Quiltaway weekend at the B&B is $260, including a $75.00 deposit.
Please click here for a printable copy of the 2015 registration form for groups.
The 2016 price of a Quiltaway weekend at the B&B is $270, including a $75.00 deposit.
Please click here for a printable copy of the 2016 registration form for groups.
Cancellation Policy for Groups
A Quiltaway weekend at our Bed and Breakfast is for a minimum of 10 or a maximum of 12 quilters. The deposit from each member guarantees your space and is non-refundable. Your balance is due 30 days before the Quiltaway. If your group decides to cancel more than 30 days before your Quiltaway you will be refunded all money paid, minus the deposit. For a cancellation less than 30 days before your Quiltaway, your group is responsible for payment of a minimum of 10 guests, whether that many attend or not. If there are any cancellations among the members, you will need to find a replacement, prorate the cost among the remaining participants or hold the canceling member to her commitment.