M&J's Quiltaways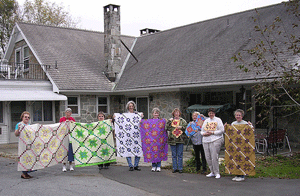 M&J's Quiltaways has been running Mystery Quiltaway Weekends since 2004. The weekends are held at a Beautiful Bed and Breakfast in Lancaster County, PA. Every Fall and Spring we design a brand new Mystery Quilt pattern for our guests to solve. The patterns are suitable for all skill levels. The quilt is designed for rotary cutting and easy piecing. The construction of the quilt top is broken down into "clues" (steps). Maricarol Magill and June Sculthorpe are the "M&J" behind M&J's Quiltaways.
Maricarol Magill
Maricarol has been a quilter since 1988. In 1992 she founded a group of quilters to create a quilt to celebrate the Centennial of Lakewood, NJ. This quilt is still hanging in the Municipal Building now. The Lakewood Centennial Quilters (LCQ) still meets regularly. Her family includes a husband, 3 sons, one daughter and three grandchildren. She enjoys traditional quiltmaking and hand quilting. All the M&J's Quiltaways Mystery Quilt patterns are designed by Maricarol.
June Sculthorpe
June has been quilting since 1996. She and Maricarol met when she joined the LCQ in 1996. She has been married to her husband, Bryan for 24 years. She also has a son, Bryan who is a graduate of Rowan University with a degree in Art. Her favorite quilt technique is paper piecing.