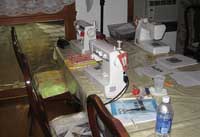 About the Weekend:
The Mystery Quiltaway is a relaxing and fun Quilter's Weekend Getaway. You will be part of a group of up to 12 quilters. It is a dream to spend all weekend doing what you love with old friends and new. The Mystery Quiltaway retreat is held at the Stoltzfus B&B in Lancaster, PA. We will have the entire B&B and will be able to set up our sewing machines and leave them up for the whole weekend.
The B&B has plenty bedrooms and bathrooms for our guests to use. We have purchased twin size beds and bedding to supplement the B&B's own beds so each quilter will sleep in a separate bed. The rooms can accommodate sleep 2-4 quilters. If you are attending the Quiltaway retreat with friends, you can indicate that on the registration form and we will do our best to accommodate you. This weekend is like a quilter's slumber party, you may find yourself with a roommate and an opportunity to make new friends.
The Lancaster area has an abundance of quilt and fabric shops. We will have information on area attractions and shopping. If you've never been there, you are in for a treat.
Typical Weekend: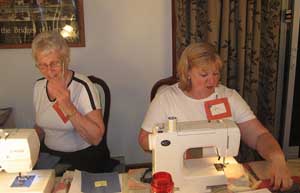 You will check in to the Bed and Breakfast on Friday beginning at 5:00 PM and settle into your room. The Mystery Quiltaway weekend begins at 6:00 PM. A chef made gourmet dinner will be served. Coffee, tea and ice water will be available all weekend, but if you have your own drink preferences please feel free to bring it along. There is some refrigerator space available for guests to use. We will begin solving the Mystery quilt with the first of the clues and also you can expect some surprises! For any beginner quilters we can offer a short lesson on rotary cutting, just ask! You can stay up as late as you want.

The Quiltaway Getaway Weekend continues Saturday morning with coffee available when you awaken. You can wake up and get right back to the sewing at any time. Our B&B hosts will serve us a delicious breakfast. We will sew the morning away. We will serve lunch around 12:00 PM. Saturday afternoon you can sew as long as you wish.
The afternoon is free time for exploring the shops and sights of Lancaster County. Saturday dinner is not served at the Quiltaway Weekend. This is your chance to try one of the many great restaurants in the area. Another option is to experience dining with an Amish Family. This is a chance to learn about Amish culture and enjoy a delicious meal. After dinner we return back to the B&B to resume the retreat and for more clues to the mystery.

Again, on Sunday morning coffee will be available when you awaken. We will provide some tasty breakfast goodies and fruit. There is time to continue to solve your mystery on Sunday morning if you need it. Most quilters will be able to complete their mystery, but don't worry if you haven't, this is supposed to be a low-pressure fun weekend. You will be provided with all clues and information to finish at home. If you get stuck please feel free to email or call us with any questions. At the conclusion of the quilter's getaway weekend there will be a clothesline quilt show. It is so much fun to stand back and see how beautiful and different everyone's quilt top turns out. Following the clothesline quilt show, we will end with a fabulous Sunday Brunch. We will then be on our way with great memories and a beautiful quilt top.
We hope you'll return for another Mystery Quiltaway!!