The Mystery Quilt
There will be an all new original Mystery Quilt pattern for each Quiltaway season. The quilt is designed for rotary cutting and easy piecing. The construction of the quilt top is broken down into "clues" (steps). You work at your own pace throughout the quilt retreat weekend. You won't know how the quilt will turn out until the last clue is revealed. You will be amazed to see how different everyone's quilt turns out following the same instructions but using different fabrics.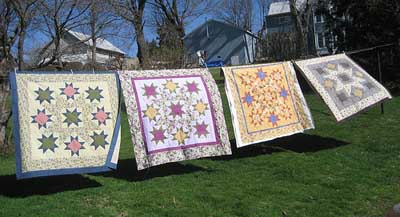 What to Bring
You will select and cut your fabric before you arrive for your Quiltaway weekend. The Fabric Requirements and Cutting Instructions will be available in plenty of time for the Quiltaways weekends. They will be posted on the website. You will click on Materials List link to print out a copy.
We provide ironing boards and irons for all to use. We also have plenty of rotary cutters and cutting mats. Each quilter should bring her own sewing machine, if this is a problem, let us know and we can make arrangements for a loaner. Click on Materials List for this season's Fabric Requirements. This includes a current supply list for more details on what to bring.
Beginner?
Don't worry if you are a beginner and not familiar with rotary cutting, you can come to the weekend retreat without having cut your fabric and we will help you through it. You can work at your own pace and pick up the next clue as you are ready for it. Help is available all weekend for any questions that may come up. Beginners who come with the fabric not cut may not complete all the steps in the getaway weekend, but you will go home with the rest of the clues and all the information you need to finish your mystery quilt. If you run into a snag you can always call or email and we will be glad to help.